Download
Movie digital download (VOD)
A digital copy of the movie is currently available. Visit the following link to watch the movie: → video on demand.
Please ask for further information (email).
The movie is currently available with the following subtitles:
English
French
Spanish
German
Modern Chinese
Traditional Chinese
Russian
Polish
Hungarian
Lithuanian
Czech
"Tutti Giù – Everybody sometimes falls" is in italian language, available with sound 5.1 and 2.0. A German dubbed audio version 5.1 and 2.0 is also available.
If you are interested for public screening please ask (email).
Poster Skate August 2012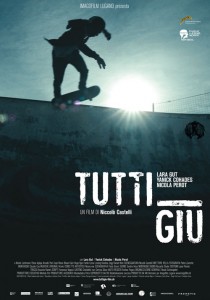 download jpg 1500 px (365 kb)
download pdf print version (6 mb)